At 12:01 BST, the roundup coverage of April Fool's Day was posted on the Guardian website.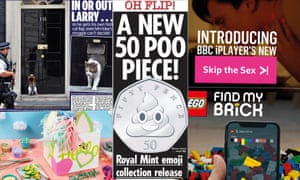 The top story was that Britain may face a permanent exit from the Eurovision song contest in The Daily Express. "It is unfortunate for British music fans, but we have a duty to protect the performers and music fans from other member states."
The Times reports that dog owners can now get drones to do walkies for them. The devices would also be able to pick up and bin any dog mess. There had, apparently, been some mishaps with the prototypes, and reports that an excited Yorkshire Terrier was seen hovering over Gatwick before Christmas were left unconfirmed.
The stories are
HERE
. The 2019 fake ads are

HERE

.

Niagara's story is the construction underway at the Port Dalhousie piers. Rehabilitation work will restore both the east and west piers. This is excellent news for sunset watchers in the summer. The pier is spectacular for viewing and draws crowds every night. This means the lighthouse will be accessible again.